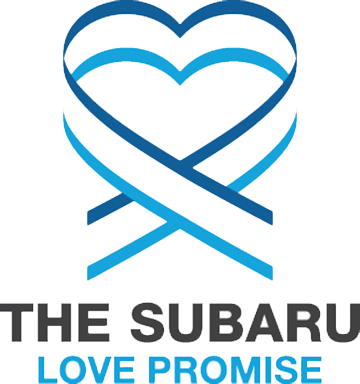 What is the Subaru Love Promise?
Subaru and our retailers believe in making the world a better place and the Subaru Love Promise is our vision of respecting all people. This is our commitment to show love and respect to our customers and to work to make a positive impact in the world.
How is Cypress Coast Subaru dedicated locally to the Love Promise?
Our Love Promise can be seen in various partnerships with local charities and non-profits. We're grateful for the opportunity, not only to be a part of our community, but to serve it as well.
SALVATION ARMY, MONTEREY COUNTY FOOD BANK
Love Promise Stories from Cypress Coast Subaru
Subaru and Cypress Coast Subaru believe in making a positive impact on the communities in which we live and work. We uphold that belief through our Love Promise Community Commitment. Every month, we select inspiring stories from customers and partners from around our area who strive to support our collective commitment and feature them here
Bandit's Ruff Start to Recovery - Andrea S
Bandit arrived at SPCA Monterey County with obvious signs of long term neglect. He was underweight and missing over half the fur on his tiny body. "Since Bandit was a stray, we don't know his history or how long he had been suffering," says Dr. Kate Riley, SPCA Medical Director. "But we knew that thanks to the support of our donors, we could help him." Bandit was obviously in a great deal of discomfort. His exposed skin was thick, greasy, red, and very irritated. The skilled veterinary team at the SPCA carefully treated him with antibiotics and special baths. "Even though he was scared at first, he was a very good boy," says Dr. Riley. "We moved slowly with him, giving him lots of treats with his baths so he learned to trust and feel safe with us. He grew to love bath time!" Since Bandit's recovery would take months, once he was stabilized and starting to improve, the SPCA moved him to the Ruff Start Program at Salinas Valley State Prison, where he flourished with loving inmate caretakers. While at Salinas Valley State Prison they continued his medicated baths and worked on his training and socialization. "The SPCA's donors are wonderful people for giving thought to these animals who often have been forgotten," says Melanie, who alongside Gabriel was one of Bandit's loving inmate trainers. "They are making a huge impact in these animals' lives." "I have to say thank you, thank you, thank you to all our donors," says Dr. Riley. "Because of you, we have programs like Ruff Start and the capacity to give pets the time they need in a safe and stress-free environment to recover. Thanks to you, we can pay attention to pets' mental and emotional welfare in addition to their medical welfare." Bandit was adopted just two days after returning to the SPCA. He now spends his days hiking with his family, romping on local beaches, and playing with squeaky toys. "Bandit stole my heart," says his adopter, Kerri. "We would like to express our gratitude to the SPCA and the Ruff Start program for taking such good care of Bandit. He is doing really well, making friends all over the peninsula. He brings so much joy every day!" SPCA Monterey County would like to thank Cypress Coast Subaru for their years of generous support! The contribution made by Cypress Coast to the SPCA has truly changed the lives of countless animals in need. We are thankful for their drive and passion in helping animals in need!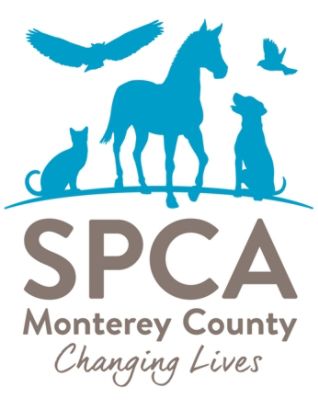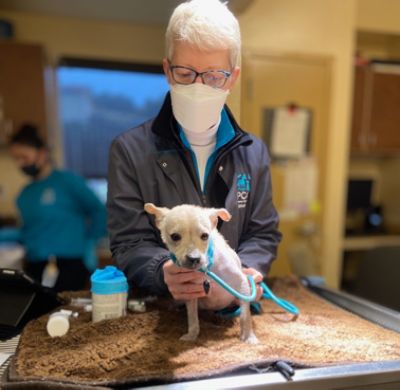 ---
Tiny Kitten Plays Again - Andrea S
Frankie came to the SPCA as a tiny kitten, part of an unwanted litter. While Frankie's littermates played and tumbled, Frankie showed signs of discomfort, not wanting to put weight on her right hind leg. Radiographs showed no fracture, but she had soft tissue swelling and a small strip of necrotic tissue painfully circling her leg. Skilled SPCA veterinarians removed the dead tissue in surgery, cleaning and suturing the wound. Within days she was a happy, active, playful kitten again, and once fully healed she was quickly adopted. "We are so thankful that our donors' generosity lets us help pets like Frankie," says Jenny Morales, SPCA Vice President of Shelter and Clinic Services. "Thanks to you, we can truly change lives." Thank you Cypress Coast Subaru for your support of SPCA Monterey County! Your generosity has allowed so many second-chances and happy endings to happen.
---
A Day Of Giving - SPCA Monterey County - Dana H
Cypress Coast Subaru Is Pet Positive - Woof Woof - As we support The SPCA Monterey County, 2022 A Day Of Giving. A Day of Giving is televised on KSBW TV8, Central Coast ABC and Estrella TV, an annual fundraiser which unites our community to celebrate our shared compassion for animals in need and support the work of SPCA Monterey County. It's all about LOVE!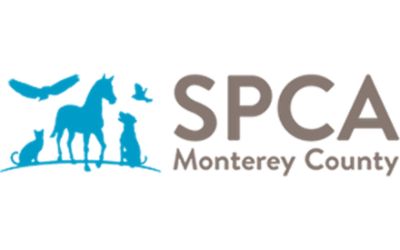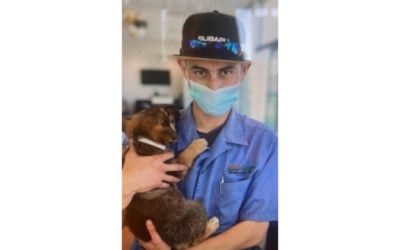 ---
Cypress Coast Subaru Surfs with Surfrider - dana h
Cypress Coast Subaru Loves the Earth surfing along side Surfrider Foundation Monterey Chapter in efforts to clean up our beaches and support membership. Together we can make a difference in cleaning up our environment and improving our local beaches. It is important for us to all come together as a community focused on common goals for the overall good of the environment. Cypress Coast Subaru is proud to support our local Surfrider Foundation Moneterey Chapter and we applaud your efforts!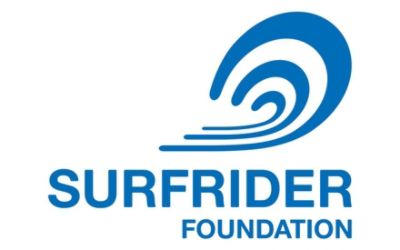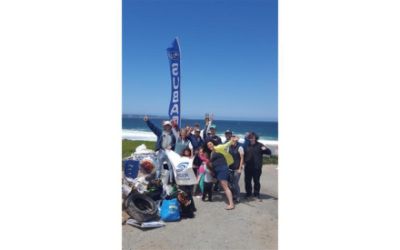 ---
SPCA Monterey County - CYPRESS COAST SUBARU C
Cypress Coast Subaru loves to participate and partner with our local community and SPCA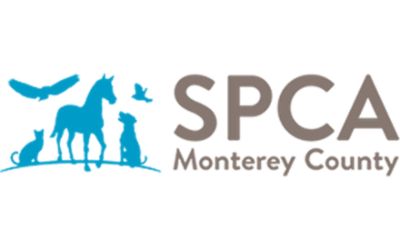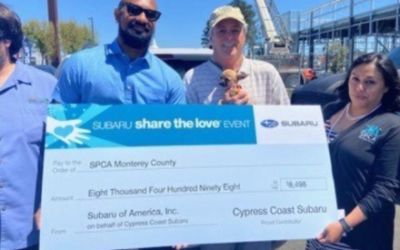 ---
Love Has No (Time) Limits - Andrea S
After 80 days in SPCA Monterey County's loving care, senior dog Bear is now in his new, forever home. Bear came to SPCA Monterey County after being attacked by another dog. He had multiple wounds on his chest and upper leg, but even more concerning was his weight, lethargy, and depression. As our skilled veterinary team treated his wounds, we investigated his overall condition and quickly discovered he was suffering from severe hypothyroidism. "He was the saddest looking dog I have ever seen," says Dr. Elneda Connors, SPCA Chief of Shelter Medicine. "He showed no interest in moving, eating, or interacting with us. But thanks to your support, we knew we could help him." SPCA veterinarians started Bear on thyroid hormone supplementation, continually rechecking his blood levels and adjusting his medication as needed. Over several weeks, he became more alert, interested in people, and even started playing with toys. While in our care, he lost 30 lbs and became a new dog. "His transformation was truly amazing," says Dr. Connors. "Bear blossomed into a happy, playful dog, a complete 180 from when he came to us. Thanks to your support, we knew we could help him." And now he is snuggled with his new family. Your love made this possible. Thanks to supporters like Cypress Coast Subaru, we never put time limits on the adoptable pets in our care, and our TLC Program (Treatment, Learning, and Compassion) mends broken bones and heals broken spirits. Bear is thriving today thanks to your support. Many thanks to Cypress Coast Subaru for their support of SPCA Monterey County and the animals in our community.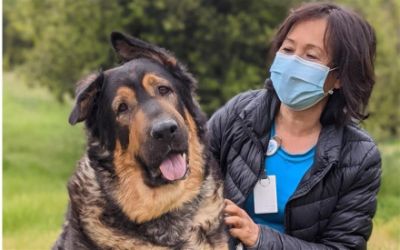 ---
Cypress Coast Subaru Sharing The Love -SPCA - Dana H
2020-21 Share the Love was a huge success and we couldn't do it without our amazing customers.....so scarves off to you !!! This year Cypress Coast Subaru and their customers raised $8,498 during the Share the Love Event to help The SPCA for Monterey County. It's all about bring the community together helping our furry friends on the Central Coast. Thanks everyone for all you do to make this community a better place. WOOF WOOF
---
Lifesaving Changes and Second Chances - Lidia W
Despite the many challenges we faced this year due to the pandemic and summer wildfires in our area, we never stopped caring for lost, abused, and neglected animals in our community. Like every sweet pup, all Lammy wanted was love — and snuggles. Lammy came to SPCA Monterey County with his fur incredibly matted, his toenails overgrown and his vision blocked by his unkempt coat. He barely looked like a dog and was suffering physically and emotionally from neglect. Thanks to compassionate supporters like you, Lammy was able to receive the specialized care and attention he needed in our Treatment, Learning, and Compassion (TLC) Program. Our veterinary team carefully shaved all of his fur which was infested with fleas and had numerous foxtails. We provided vet care, nourishing food, vaccinations, flea treatment, and regular medicated baths to soothe his irritated skin. Lammy was feeling better but his spirit still needed mending. He was incredibly fearful and would cower or run away when anyone approached him. With his health improving, Lammy's care transitioned from our veterinary team to our behavior specialists who patiently worked with him for nearly a month to build his confidence. Initially, they would quietly sit with him and give him treats as he got used to their presence. As he started to come out of his shell, he began socializing with other dogs in playgroups. Soon, his spunky personality began to shine and he was happily wagging his tail whenever it was time for a walk. Now, all he needed was what he yearned for the most: a loving home. I am happy to share that Lammy is now happy, healthy, and spending the holidays in his new loving home. Again, thank you for making a difference. You provide lifesaving care and heartwarming transformations for animals in need. With your support, we have been able to keep families together with more than 60,000 pounds of free pet food distributed to pet owners through our Pet Food Bank. During this summer's devastating wildfires, we rescued, evacuated, and sheltered more than 1,400 animals all thanks to you! ~SPCA Monterey County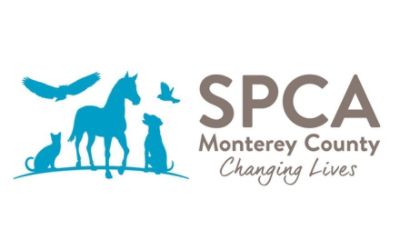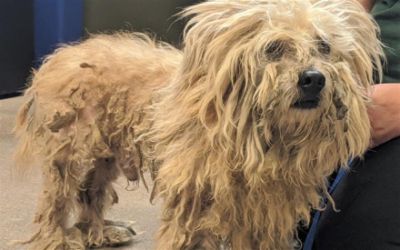 ---
Charlie's Story - Lidia W
Cypress Coast Subaru, Thank you for sponsoring our 2020 Share the Love Pet Telethon and virtual Wag n' Walk events. Your support allows us to continue our mission during these crucial times. Our mission at the SPCA Monterey County is all about making animals well. When our work does more than that, we have a classic win-win situation. When Charlie came into our care with his littermates, it was immediately obvious something was wrong with him. While the other puppies rolled, played, and jumped, Charlie stayed back, his right front leg twisted and hanging limply. Charlie's brothers and sisters were spayed, neutered and adopted quickly while Charlie underwent intricate surgery and weeks of care thanks to your compassionate support. "None of the bones from Charlie's shoulder to his paw formed properly," said Dr. Elneda Conners, SPCA Chief of Veterinary Staff. "He was unable to use or bear any weight on his leg, which stayed tucked up against his body. We didn't know how those bones would grow as he aged, so we made the humane decision to amputate." SPCA veterinarians performed the surgery, and by the next day, Charlie was acting like a fun-loving, silly puppy. Although Charlie was ready for rough and tumble play, his body needed time to recover and a busy shelter isn't always the best option. Puppies thrive on early socialization, training, and care, so we asked our Ruff Start trainers to take him in during his recovery. The SPCA's Ruff Start program pairs shelter dogs with inmates at Salinas Valley State Prison, where puppies like Charlie receive specialized training and care 24 hours a day. Carefully screened inmates receive so much more. "I've been locked up since I was 16," says Charlie's trainer Joshua. "I never had my own family. I never was in the role as a father. Ruff Start surprisingly shed a light on that for me: the responsibilities, the time, all that is needed and makes a family." Joshua worked one-on-one with Charlie, giving him love and care. He potty trained Charlie, which proved to be quite a challenge, and taught Charlie to sit, stay, and heel. He also trained Charlie to roll over, which can be tricky with only three legs. This talent proved important, as it's what delighted and charmed his adopter's five-year-old daughter. "My father volunteers at the prison," says Charlie's adopter, Eddie Atilano. "He met Charlie there and told us how perfect Charlie was. Now Charlie sleeps in our bed. He loves his toys and runs up and down the stairs - he has no idea he doesn't have four legs." "It's so great that the SPCA is helping the inmate community and bringing smiles to faces. Everyone at the prison keeps asking about Charlie, and my dad brings them pictures. You can tell they all care. We're really thankful we found a dog who makes our family complete." We are thankful as well. We're thankful for our dedicated partners at Salinas Valley State prison. We're thankful someone opened their home and heart to Charlie. And, we're thankful for supporters like you, Cypress Coast Subaru, who make our special medical care and behavioral attention possible. We don't have just a few dogs who need this special care. We often have more dogs and cats, horses, and small domestic animals with special needs that come into our care. The SPCA Monterey County is among a shrinking number of animal shelters across the country that doesn't turn animals away and willingly accepts the most needy ones, knowing they will require weeks, even months of specialized work to be made whole again. We are only able to do this because of your support. When you think of how your Subaru Share the Love event helps our nonprofit organization, please think of Charlie's care and full recovery. Think of the joy he's given his new family, the pride felt by his trainer, and the comfort and love he's feeling in his new home. Please also think of all the other shelter animals you have helped and the happiness and comfort you have brought with your generous donation. Thank you for enabling us to do this hard, life-saving work! SPCA Monterey County Team
---
Cypress Coast Subaru – Caring for the Community! - Teresa V
Maria Rodriquez visited the Community Hospital of the Monterey Peninsula (C.H.O.M.P) Montage Health's Mobile Clinic at the Dennis the Menace Park in Monterey for a care visit and was surprised when she was presented a gift of a blue and white checkered blanket wrapped in a bright red bow. The Mobile Clinic is accessible to all – reaching homeless individuals and students who otherwise may not have access to health care services. Cypress Coast Subaru and the Silicon Valley Monterey Bay Chapter of the Leukemia and Lymphoma Society (SVMB LLS) teamed up to deliver blankets and arts and crafts kits to patients and families at the Community Hospital of the Monterey Peninsula (CHOMP). The C.H.O.M.P. Montage Health leadership and care team expressed appreciation to Subaru and LLS. The Cypress Coast Subaru team underscored how important Subaru feels about giving back to the local community. We would like to express our thanks to Cypress Coast Subaru for stepping up again, to bring warmth and love, to Community Hospital of the Monterey Peninsula Montage Health in their quest to help their community.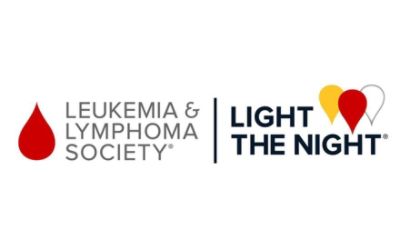 ---